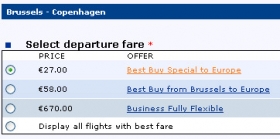 SN Brussels Airlines
Virgin Express dropper København
Virgin Express flyver ikke længere til Kastrup lufthavn i København.
Virgin Express ophør med flyvning til København er hengået i stilhed
Der har ikke været pressemeddelelser om det, og når man går ind for at bestille billet til Spanien med Virgin Express, så fremstår København i en anden farve end de andre byer
Vælger man København som destination, får man blot et pop-up vindue med teksten:
Dear customer,
Virgin Express does not serve this route (any longer). However, we are pleased to advise you that SN Brussels Airlines, the other Belgian network airline in the SN Airholding Group, offers flights to your chosen destination. Click on this link to visit the SN Brussels Airlines website and book the flight you selected now.



Beskeden går på at billetter til København kan købes via deres partner SN Brussels Airlines. Derved skal man til at bestille billetter ved to forskellige selskaber for en enkelt rejse.
Billige flybilletter med SN Brussels Airlines
Det er ikke helt nemt at finde de billige flybilletter med SN Brussels Airlines, men med lidt tålmodighed fandt vi en enkeltrejse for € 27, kun en måned frem. Det må anses for værende billigt.
Det er stadig noget bøvl, at der skal bestilles billetter ved to forskellige selskaber, men det kan være en fordel, hvis man skal flyve i fx efterårsferien, hvor de danske skolebørn holder fri, og priserne på flybilletterne er i top. I udlandet har de ikke nødvendigvis efterårsferie samtidigt med Danmark.
Direkte links



Pressemeddelelse fra Virgin Express, da det gik godt

Brussels, April 6, 2000
As from this summer Virgin Express, Europe's leading low fare airline, will be flying three times a day from Copenhagen to Brussels. At last, both business and leisure travellers will not only be able to enjoy air travel from and to Scandinavia at affordable prices but will discover a new and very convenient schedule.
As from May 4 Virgin Express will triple its daily frequency on the Copenhagen-Brussels route.

The reasons for this increase in frequency are obvious:
· Virgin Express takes advantage of the extra passenger streams, which the opening of the Oresund Link between Denmark and Sweden will generate. The airline does not only target the Danish but also the South Swedish market for travel to Brussels and beyond;

· Secondly, the traffic towards sunny Southern Europe is obviously significantly higher during the summer. Therefore, Virgin Express made sure that the flights from Copenhagen to Brussels smoothly connect with the flights to Madrid, Barcelona, Rome, Milan and Nice.

Virgin Express, founded by Sir Richard Branson in 1996, is based on the idea that people would fly more often if it were more affordable. Virgin Express is a low fare airline offering simple, convenient and inexpensive air travel throughout Europe. Therefore, fares for one-way travel from the Danish capital to Brussels will start from 399 DKK (176 DKK airport taxes included).
And smart travellers can fly from Copenhagen via Brussels to the South European destinations Madrid, Barcelona, Nice, Milan and Rome as from 799 DKK one way (all taxes included). These fares are significantly lower than the prices, which the traditional scheduled carriers charge for seats to the same destinations.


Priser med Virgin Express fra Brussel til Malaga

€144,00 EUR

Sun, 02 Oct 05
Flight TV 828


| | | | | |
| --- | --- | --- | --- | --- |
| 07:30 | | Depart | | Brussels Int. Airport (BRU) |
| 10:20 | | Arrive | | Malaga (AGP) |
| | | | | |

€109,00 EUR

Sun, 02 Oct 05
Flight TV 832


| | | | | |
| --- | --- | --- | --- | --- |
| 11:50 | | Depart | | Brussels Int. Airport (BRU) |
| 14:40 | | Arrive | | Malaga (AGP) |
| | | | | |

€83,00 EUR

Sun, 02 Oct 05
Flight TV 834


| | | | | |
| --- | --- | --- | --- | --- |
| 15:30 | | Depart | | Brussels Int. Airport (BRU) |
| 18:20 | | Arrive | | Malaga (AGP) |
| | | | | |

€109,00 EUR

Mon, 03 Oct 05
Flight TV 832


| | | | | |
| --- | --- | --- | --- | --- |
| 11:50 | | Depart | | Brussels Int. Airport (BRU) |
| 14:40 | | Arrive | | Malaga (AGP) |
| | | | | |

€83,00 EUR

Mon, 03 Oct 05
Flight TV 834


| | | | | |
| --- | --- | --- | --- | --- |
| 15:30 | | Depart | | Brussels Int. Airport (BRU) |
| 18:20 | | Arrive | | Malaga (AGP) |
| | | | | |

€83,00 EUR

Tue, 04 Oct 05
Flight TV 832


| | | | | |
| --- | --- | --- | --- | --- |
| 11:50 | | Depart | | Brussels Int. Airport (BRU) |
| 14:40 | | Arrive | | Malaga (AGP) |
| | | | | |

€71,00 EUR

Tue, 04 Oct 05
Flight TV 834


| | | | | |
| --- | --- | --- | --- | --- |
| 15:30 | | Depart | | Brussels Int. Airport (BRU) |
| 18:20 | | Arrive | | Malaga (AGP) |
| | | | | |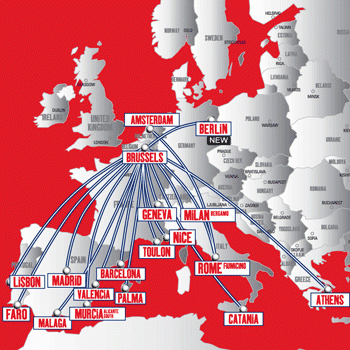 Virgin Express uden København
---
Dine Spanien-kommentarer